Paralympic flame goes on show in Leeds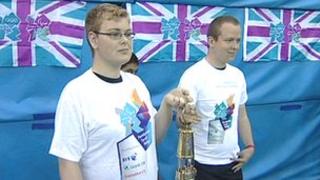 The Paralympic flame has been paraded in West Yorkshire as part of a special event to celebrate the Paralympic Games which get under way next week.
The flame went on show at the John Charles Centre for Sport in Leeds.
A showcase of paralympic sports was demonstrated at the event held between 12:00 BST and 14:00 BST.
Evan Whitton, an eight-year-old boy from Silsden with cerebral palsy, brought the flame by train to Yorkshire on Friday.
'Best of luck'
The flame arrived in York where it was divided into five flames, which were then carried on to Huddersfield, Beverley, Leeds and Sheffield.
Ann Castle, Lord Mayor of Leeds, said after the "amazing success" of the Olympic Games and the performance of Yorkshire's athletes, she hoped it would be a case of "more of the same" at the Paralympic Games.
"It would be great to see as many people as possible coming along to the Paralympic flame in Leeds and the very best of luck to our Leeds athletes competing in the Games," she said.
The Paralympic celebration event at the John Charles Centre was open to everyone and was free of charge, said Leeds City Council.