Thousands attend Leeds West Indian Carnival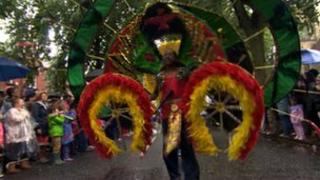 Thousands of people have attended the 45th Leeds West Indian Carnival - the oldest street event of its kind in Europe.
A three-hour colourful parade started at Leed's Potternewton Park and went through Chapeltown and Harehills.
The carnival is the brainchild of Arthur France who developed the idea after becoming homesick.
This year's themes included the Olympics and the Queen's Diamond Jubilee.
Organisers said they expected about 100,000 people to attend.
Mr France said: "People come from all over the world, including people from North America, the Caribbean and Europe.
"It is a Leeds carnival and we bring quite a lot of tourists and artists to the city, including dance troupes and costumes from around the country."
"Today Leeds Carnival is so much more than I ever expected.
"It is no longer just a homesickness remedy for Caribbeans. Carnival belongs to the entire city and is one big party that everyone is invited to. It really is a dream come true."