Bradford One in a Million free school: Fight for funds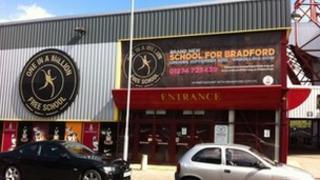 Parents whose children were destined to go to a free school in Bradford have vowed to fight a government decision to withdraw funding for the scheme.
The One in a Million Free School lost funding after it failed to attract enough pupils.
Government cash for the institution was withdrawn a week before the doors were due to open on 3 September.
Parents want Education Secretary Michael Gove to look again at the decision.
Janet East, whose son James was due to attend the school, said she and others were not giving up the fight to get the school opened.
'No answers'
She said: "We're still emailing the Department for Education but we've had no answers.
"I've not heard from any school, and I don't have a school for James.
"But we parents are still campaigning. One In A Million did everything they were asked. My heart is here - for my son's education.
"Families are devastated, there is a white paper saying 'every child matters' - I'd like Michael Gove to read it."
The head teacher designate of the One In A Million school, Jez Stockill, said: "At the minute we're waiting to be involved with a meeting with the Department for Education.
"We're deeply touched by the response parents have shown.
"We have 30 sets of parents willing to go with us on our journey and we are very moved and humbled by their commitment to us."
Councillor Ralph Berry, responsible for education in the Bradford area, said: "If it was my child I would be absolutely furious.
"Somebody needs to identify what happened here, the school was told the project was on track and then suddenly somebody threw the points.
"We've got the [school] places but the children have to be introduced to those schools and some parents are not well off and have to try and turn that around in three days.
"Only a bunch of public schoolboys could make such a foul-up as this."
Previously, the Department for Education said: "Before any new schools open their doors, we have to be sure that all the conditions we set have been met.
"Setting up a free school is a difficult task and we thank One In A Million for all their hard work. We still hope that One in a Million will open in 2013."
Free schools are run by groups including faith organisations, parents' groups or charities. They are independent of local authority control and funded by central government.