Leeds council to fight GCSE English decision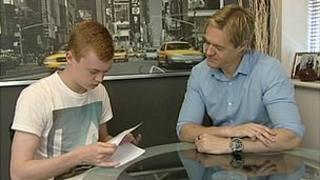 Leeds City Council is to take legal action against England's exams regulator after it refused to order the regrading of English GCSE results.
Ofqual acknowledged grade boundaries had changed part way through the year, but stood by the new grading system.
The Leeds authority said at least 400 young people in the city had been unfairly affected by the changes.
It said Ofqual's offer of early resits was "absolutely unacceptable and totally misses the point".
'Unfairly treated'
Councillor Judith Blake, the city's executive board member for children's services, said: "I am outraged that Ofqual have somehow reached the conclusion not to take adequate action to remedy this travesty.
"We feel there is compelling evidence to formally pursue a judicial review against Ofqual and the examination boards responsible.
"We will contact the authorities and schools who have already approached us regarding joining forces on any legal action to ensure we get justice for the young people who have been so unfairly treated."
The grade boundary changes mean many pupils who were expecting a C grade were given a D as a result and may be denied college places.
Ofqual chief executive Glenys Stacey said: "We have spoken to exam boards and they have been very responsive.
"Recognising the strength of feeling, they will be offering early resits for students who sat the June units.
"We will now go through our analysis and evidence with the representative groups for schools and colleges, so they can see it for themselves.
"We will also talk with schools, exam boards and assessment experts to see what lessons can be learnt and what can be done better in the future."