England's 'smallest' free school opens doors in Leeds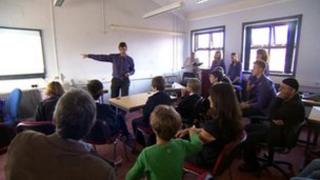 A free school claiming to be the smallest in England has opened its doors to its first pupils.
The Lighthouse school in Leeds has seven 11-year-old pupils, all children with autism spectrum conditions.
Within five years the school is expected to have 50 pupils aged between 11 and 19 years old.
Parents who have set up the school said the introduction of free schools made their hopes of specialist education for autistic children a reality.
The school is currently based at the Derek Fatchett City Learning Centre in Woodhouse Cliff but will eventually have its own building.
Katie Parlett, chairwoman of the trustees, said: "When the free schools initiative was unleashed... there was never really a more hand in glove situation.
"For us as a group of parents, to have a governement-led initiative that will enable us to reach our dreams was just so timely."
Parent Sarah Cooper said: "Watch this space as I am sure all these children will just excel."