Free Sunday and evening parking in Leeds could end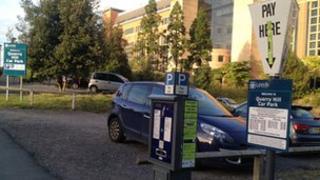 Free parking on Sundays and weekday evenings in Leeds could be scrapped.
The council said Leeds was one of only three cities offering free parking on Sundays. Parking is also free from 18:00 BST Monday to Saturday.
A report to councillors said introducing Sunday charges would stop workers from using spaces all day, freeing them for shoppers and visitors.
However, some retailers feel it will adversely affect business. A public consultation is to be held.
The council's executive board has given the go-ahead for a consultation to take place before any plans are drawn up.
Other changes being considered include increasing the maximum stay period for city centre street spaces, reviewing prices at the Woodhouse Lane car park after refurbishment works are completed and further developing park and ride proposals.
'Help businesses'
Councillor Richard Lewis, the council's executive member for development, said: "Having the right balance of car parking spaces, complemented by good public transport, is essential to the economy of the city centre.
"We need to make sure that our car parking strategy takes into consideration the exciting new developments such as Leeds Arena and the Trinity and Eastgate schemes that are taking place in Leeds, and the increase in visits to the city centre that these will generate.
"The next step will be to take our proposals out to consultation with residents, commuters, visitors, businesses and local transport operators. This will help us to shape our future car parking policy."
John Bade, manager of the Victoria Quarter shopping arcade, said Leeds should publicise the fact that it is one of only a few cities with free parking, rather than trying to make changes.
He said: "Where we are with the economy at the moment, we need to be helping people, helping businesses, helping retailers rather than encouraging them to go to an out-of-town shopping centre that might offer free parking."