Amputee Phil Sheridan to run Dales Way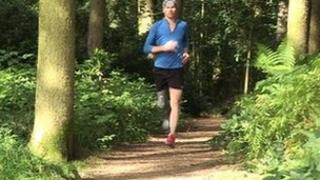 Paralympian technology has given a West Yorkshire man the opportunity to return to long-distance running.
Philip Sheridan's right leg was amputated below the knee following a motorcycle accident in 2002.
The 48-year-old was warned he might not walk again but plans to run the 80-mile (128.7km) Dales Way later in 2012.
His running blade, similar to ones used by Paralympian athletes such as Oscar Pistorious, has been made by a Leeds-based prosthetics company.
Mr Sheridan, who is from Keighley, said running the Dales Way would mark the 10th anniversary of his accident.
"The very first prosthetic limb I was given was very basic and the consultant suggested to me that I would be very lucky to walk with any degree of efficiency which did make me more determined," he said.
'Massive leaps'
His running blade has been designed by RSLSteeper based at Seacroft Prosthetics Department in Leeds.
Mr Sheridan said: "The limb I run on now is the flex-run and it is designed for long-distance running.
"I first saw these types of legs in the Paralympics. It helps project you down the road or along the trail in my case as a trail-runner."
Vicky Jarvis, from RSLSteeper, said sport had been a driving force in improving prosthetics in recent years.
"Over the years the quality of prosthetic legs has improved rapidly. There have been massive leaps in development in this area to enable people to enjoy life to the full and to participate at very high levels in sport," she said.
The Dales Way runs from Ilkley in Yorkshire to Bowness-on-Windermere in Cumbria and Mr Sheridan hopes to raise several thousand pounds for a number of charities.