High Court bid to save 'noisy' Hemsworth cockerels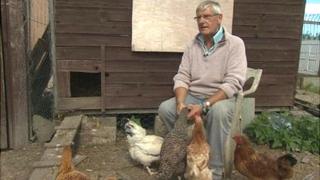 Allotment holders in a West Yorkshire town are looking to the High Court as they fight to save cockerels which have ruffled a nearby homeowner's feathers.
Hemsworth Town Council has told tenants to remove cockerels from the site or face eviction. It said people were entitled to an unbroken night's sleep.
Stan Wilson said he was upset as his bird Burt, which sparked a complaint over noise, was "on death row".
The tenants want a judicial review and injunction to halt evictions.
They say the town council is acting beyond its powers and are having discussions with lawyers.
'Unfairly treated'
Allotment holder Jim Kenyon said there was no proof the cockerels were noisy and the tenants had asked for them to be monitored over a three-month period but the town council refused.
Mr Kenyon, an independent member of the Labour-led council, said: "They have been judge, jury and executioner by doing what they have done.
"If a judge makes a decision that the cockerels have to go then they have to go. But the way it's been put to them by Hemsworth Town Council, that they are breaking the law, is wrong.
"We feel that we have been dealt with unfairly."
Mr Kenyon said only one homeowner from a new housing estate had complained and at a council meeting on Wednesday more than 100 residents had turned up to show support for the allotment holders.
'Breach of lease'
Mr Wilson, who is also an independent councillor and has worked on the allotments for four years, said he wanted to see proof that Burt and the other birds on the site were causing a nuisance.
He said: "My biggest argument is we have kept cockerels on this allotment long before I was born and I am going on for 70 years old.
"I have lost my allotment which is creasing me because this is my life."
Labour councillor Tony Upson, chairman of the council, claimed it was unaware until recently that there were cockerels on the site.
He said: "This put the tenants in breach of the terms and conditions of their lease as cockerels are not permitted under the 1950 Allotment Act. We asked tenants to remove the cockerels and even allowed them three months to do so.
"Most tenants appeared to have complied, it us unacceptable to us that a few people are prepared to allow their hobby or pastime to disturb other people in our community.
"Surely everyone is entitled to an unbroken night's sleep and in the summer, it can be light from around 4am and this is when the problem starts."