Robberies force N G Bolton in Guiseley to close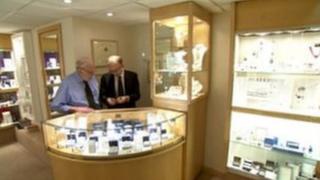 A family-run jewellers in West Yorkshire that has been in business for more than 80 years is to close because of a string of thefts and robberies.
N G Bolton in Springfield Road, Guiseley has become such a target the owners feel unable to carry on.
They said the shop had been robbed more than 20 times in the past 30 years. Now it is holding a closing-down sale.
Robert Bolton, who runs the shop with his father, said: "I've had enough, I just can't deal with it anymore."
Mr Bolton said the final straw had been an incident that occurred last week when a bag had been stolen containing customers' jewellery.
"I never want to be put into that position again", he said of the customers' distress over the loss.
According to Mr Bolton the 23 robberies started with a "smash and grab" raid in the 1980s.
Firearms were used during at least one robbery and many have involved threats of violence to the shop staff.
"In the early 2000s we had three robberies in three weeks, and when there is violent force involved with people using pick axes and lump hammers it really is a trauma."
Impossible to provide
He said there was no criticism of the police in the decision and the force "had an extremely difficult job to do".
Ch Supt Dave Oldroyd, North West Leeds Division, said "Guiseley is generally a very safe area" and he had "every sympathy" for the Bolton family.
"Recent figures show that since the end of March the number of robberies across the division has been reduced by more than 40% compared to the same period last year," he added.
The jewellery shop was founded in 1928 by Tom Crook. Robert's father, Geoffrey, joined as an apprentice in 1938 and he still comes into work every day aged 89.
On the death of Mr Crook, Geoffrey Bolton took over the business in 1970. His son Robert joined the business in 1975.