Huddersfield homecoming for Olympic star Ed Clancy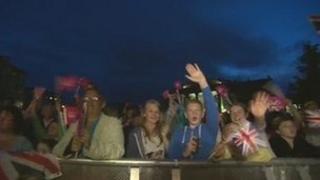 Large crowds welcomed Olympic gold medallist Ed Clancy home to Huddersfield in a special ceremony on Sunday night.
Clancy won a gold medal in team pursuit in the 2012 London Olympics and a bronze medal in the men's omnium.
The homecoming ceremony in St George's Square culminated in a firework display.
Clancy said: "It's great and so nice that people want to come out to see me."
The mayor of Kirklees, Councillor David Ridgway, described the cyclist as an excellent ambassador for the town.
Clancy was born in Barnsley, South Yorkshire but moved to Huddersfield as a child.
Speaking before the event, Mr Ridgway, said: "We're all immensely proud of him, and congratulate him not only on what he has achieved for his sport, but also on being such an outstanding role model for our young people.
"I know he's keen to avoid the pomp and circumstance of other homecomings though, so this is going to be an informal home-grown affair through and through."