TV set thrown at moving train in Bradford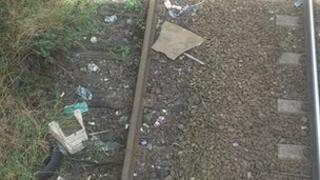 A television set was hurled at the front of a moving train from a footbridge in Bradford.
British Transport Police (BTP) said the attack was one of series reported to have happened at Dalcross Footbridge.
The TV hit the front of the Selby to Wakefield Westgate passenger service. No-one was injured.
A computer monitor, a wheelie bin and a mattress were among the objects which have been found on the line in Bradford, officers said.
'Destructive vandals'
BTP has increased patrols after more than 100 incidents had been reported across the Yorkshire region over the last 12 months.
Insp Richard Price, from British Transport Police, said: "Throwing objects at a train or onto the tracks is incredibly dangerous... and there is a real potential for a train to be derailed.
"I really cannot emphasise enough how dangerous this is and I am very concerned that if we don't find these destructive vandals someone is going to get seriously injured or even killed."
He also said fly-tipping was a common practice at Dalcross Footbridge.
"This is totally unacceptable and we will take action against anyone who is using the railway as a dumping ground."
The footbridge connects a housing estate to an industrial area.