Council shows off one day of city centre rubbish in Leeds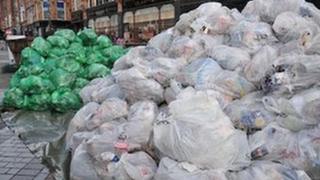 Rubbish collected in 24 hours from Leeds city centre has been put on display.
Six tonnes of waste in bags was piled up on a street as part of a campaign by Leeds City Council to encourage people not to drop litter.
Two mounds showed the rubbish removed from on-street dustbins and the waste picked-up after being thrown on the streets.
The council said it spends £8m a year cleaning the city's roads.
Councillor Mark Dobson, executive member for the environment, said: "I know many people were astounded when they saw just how much rubbish is collected in such a short space of time.
"The fact piles of rubbish this size are collected every day demonstrates the scale of operation we need to run to keep streets clean.
"If anyone needed evidence to show that some people still don't have the right attitude to rubbish, then today's exercise provided just that."