Tyrone Clarke's mother 'devastated' by killer's move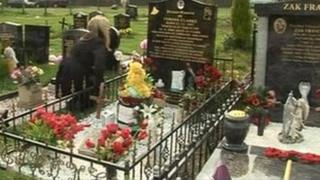 The mother of a murdered West Yorkshire teenager said she was "devastated" by the news that a man serving life for the offence had been moved to an open prison.
Tyrone Clarke, 16, was stabbed to death after being set upon by a mob in Beeston, Leeds, in April 2004.
His mother, Lorraine Fraser, said: "It's all about the perpetrator."
Ms Fraser's MP, Stuart Andrew, added: "The law doesn't seem to be on her side."
The man has been moved under a Guittard arrangement where the justice secretary can transfer lifers to an open prison without going to the parole board.
Ms Fraser said she felt the parole board had been "by-passed".
"I haven't had time to grieve properly for my son," she added.
'Thorn in side'
Ms Fraser said the killers seemed to have "more rights" than the victims or families, and relatives did not have a say in the move.
"I will always be a thorn in their side," she said.
Mr Andrews, Conservative MP for Pudsey, said: "We really need to understand what the implications of this ruling are."
He has raised the matter in Parliament where Jeremy Wright, the justice minister, said what Mr Andrews described was "concerning".
Mr Wright has agreed to meet Ms Fraser and Mr Andrews to discuss the matter.
Mr Clarke was attacked by 20 men in Brett Gardens, Beeston. Post-mortem tests showed he died from stab wounds.
Four men were convicted of the teenager's murder at Leeds Crown Court in 2005.
All four lost an appeal against their convictions in February 2007.