Dame Fanny Waterman lends her name to community centre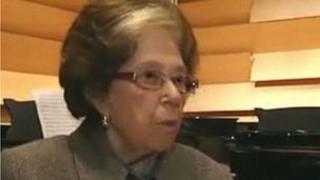 A new community centre in West Yorkshire has been named after Dame Fanny Waterman following the work she has done with young people.
The facility in Gipton, Leeds, is attached to Wykebeck School and replaces South Gipton Community Centre.
Dame Fanny, 91, attended the official opening of the facility.
She is chairman and artistic director of the Leeds International Piano Competition held every three years in the city.
Dame Fanny founded the competition in 1961, which has gone on to become one of the world's leading music events.
She was born in Leeds and has spent nearly all her life in the city.
The community centre has meeting rooms, a hall and games area and is to be open to local organisations.
It has been funded by £518,000 from Leeds City Council.