Calder Valley summer flood clean-up 'to cost £2.5m'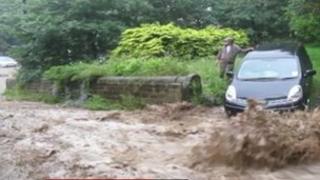 The cost of the clean-up and repair operation after severe flooding in part of West Yorkshire will be about £2.5m, a council has revealed.
A series of flash floods hit the Calder Valley in June and July, with a month's rain falling in a matter of hours.
Tim Swift, Labour leader of Calderdale Council, said money could be redirected from some council services to help pay for the clean-up.
But front-line council services would not be affected, said Mr Swift.
Unexpected events
Sudden downpours overwhelmed drainage systems in Todmorden, Hebden Bridge and Mytholmroyd on 22 June and 9 July.
The subsequent flooding damaged hundreds of homes and businesses.
Calderdale Council had already spent £800,000 by the end of August on recovery and repair work, said Mr Swift.
While the council did have a contingency fund for unexpected events, it was "very difficult" for a council of Calderdale's size to manage flooding on the scale seen in the summer, he said.
'Little help'
The council would only receive about £100,000 from the government to help with the clean-up operation, said Mr Swift.
"We've had a lot of sympathy but little in terms of practical help," he said.
Mr Swift said money for services such as regular road maintenance could have to be redirected to help areas badly hit by flooding.
Craig Whittaker, Conservative MP for Calder Valley, said money was available to help Calderdale Council.
The council should receive about £300,000 from the government's Bellwin scheme, which offers emergency financial assistance to local authorities, he said.