Leeds soldier Cpl Scott Dyson recognised for bravery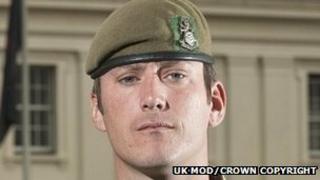 A 29-year-old soldier from West Yorkshire who risked his life to help an injured soldier in Afghanistan has been recognised for his bravery.
Cpl Scott Dyson, of 1st Battalion The Yorkshire Regiment, was on patrol with an Afghan National Army (ANA) platoon in Nahr-e Saraj when it was attacked.
Cpl Dyson, from Guiseley, Leeds, ran through enemy fire to give first aid, said the Ministry of Defence (MoD).
He was given a Mention in Dispatches for his bravery.
The incident happened in Helmand Province when the ANA platoon came under fire.
Cpl Dyson showed the ANA platoon how to suppress enemy fire and protect their flanks while the remainder of his own platoon, in a separate patrol providing support, had to take cover, said his MoD citation.
'Pushing my luck'
The ANA patrol struck a large improvised bomb (IED), killing one soldier and critically wounding two others.
Cpl Dyson ran across about 200m of ground which had not been checked for explosives, to reach the stranded casualties.
"I was worried there were more IEDs but I decided I had to help the casualties," said Cpl Dyson.
"I went back to the soldier who had been killed and, from the crater caused by the IED, pulled him across to me.
"At this point I started thinking, I'm pushing my luck here."
As incoming fire targeted the patrol, Cpl Dyson treated the casualties and arranged their evacuation.
Cpl Dyson's citation said that he "displayed outstanding leadership and personal courage".
The soldier's actions had a "galvanising effect" on those involved, it concluded.