Bradford Council fined for caretaker injury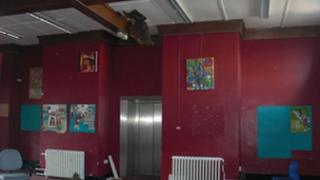 Bradford Council has been fined for a safety breach after a school caretaker was injured when he fell through a ceiling days before retiring.
David O'Hanlon, 62, was left with permanent disabilities when he fell four metres while putting a light bulb in a roof void of an old school hall.
He fractured his hip and has been told he will not gain full mobility.
The council admitted a safety breach at Bradford Magistrates' Court and was fined £15,000.
The Health and Safety Executive (HSE) said Mr Hanlon was putting a new light bulb in at the old Beckfoot School in Bingley in June last year so he could empty it safely before demolition.
'Completely avoidable'
In doing so he stepped on to an unboarded area that gave way beneath him and fell through into the hall below.
He suffered a fractured hip and a broken heel and has been told he is likely to need a hip replacement. He has also been told he will suffer from severe arthritis.
The HSE said Mr O'Hanlon, a caretaker at the former Beckett school for eight years, was due to retire on June 27.
He was working on his last job on 22 June supervising the clearance of the old school when the fall happened.
The council pleaded guilty to breaching the Health and Safety at Work Act and was also ordered to pay £5,667 in costs.
HSE inspector Morag Irwin said: "This incident was completely avoidable and has essentially dashed Mr O'Hanlon's hopes and expectations for a healthy retirement."