Pat Regan anti-gun worker killed by paranoid grandson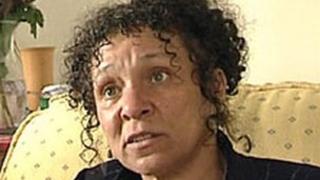 The grandson of a Leeds anti-gun campaigner stabbed her to death while suffering from mental health issues, an inquest has heard.
Rakeim Regan, who was 21 at the time, stabbed 53-year-old Pat Regan multiple times in the head and neck in May 2008.
His mother told an inquest he had been smoking cannabis since the age of 11.
Frances Regan, told the hearing at Leeds Coroner's Court that her son's mental health had deteriorated before the stabbing.
Ms Regan, Rakeim's mother and Mrs Regan's daughter, said she believed he should have been sectioned.
Mr Regan was diagnosed with severe paranoid schizophrenia following his grandmother's death and was ordered to be detained indefinitely at a secure psychiatric hospital in 2009 after admitting manslaughter.
Frances Regan told the inquest that Rakeim first got drunk at a friend's birthday party when he was nine and she found a photograph of him smoking a cannabis joint when he was about 11-years-old.
'Sensitive boy'
Ms Regan said she believed there was a link between her son's cannabis use and his mental health issues.
Rakeim was described as a "sensitive boy, quiet and laid-back" who was spoilt by his extended family, particularly his grandmother, whom he was very close to.
He also "idolised" his uncle Danny and Ms Regan said she believed he had a "mini-breakdown" after his murder in St Helens, Merseyside, in December 2002 - an event which led Pat Regan to become an active member of the campaign group Mothers Against Guns.
The inquest heard that Rakeim was in trouble with the police on a number of occasions and became paranoid about them, believing he was a target.
Ms Regan said she and other members of the family tried to help Rakeim get treatment for his mental health issues but he would not admit he had a problem and refused to seek help.
The inquest heard that, on the day before her death, Mrs Regan managed to get Rakeim to attend hospital with her, where he was given a sleeping tablet and sent home with her.
The inquest at Leeds Coroners' Court, which is due to last for two weeks, continues.