Paralympic gold medallist Hannah Cockroft opens sports hall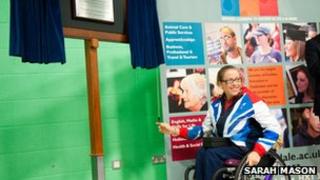 Double gold medal-winning Paralympian Hannah Cockroft has opened a new sports hall named after her in West Yorkshire.
The wheelchair racer won two gold medals in the women's T34 100m and 200m wheelchair sprints.
Calderdale College, Halifax, said it wanted to recognise its former student's achievements.
Miss Cockroft said: "I always said if you can inspire one person then you've done your job, so clearly I've done my job if a lot of people are inspired."
She added: "It's been two months since I won my second gold medal, and it's just been absolutely insane.
"Every day's been filled with something different and some new experience and it's been fantastic - but a bit tiring."