Mental care lapse 'led to death' of Pat Regan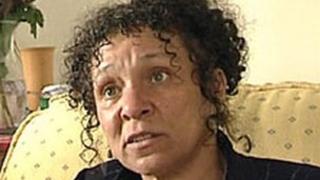 The failures of a mental health team led to the fatal stabbing of anti-gun campaigner Pat Regan by her seriously mentally ill grandson, a coroner said.
Mrs Regan would not have been killed if Rakeim Regan had been assessed by a specialist psychiatrist and detained, coroner David Hinchliff said.
Rakeim Regan, who was 21 at the time, stabbed 53-year-old Mrs Regan in the head and neck in May 2008.
Their family said the two were "failed" by the Leeds Mental Health Crisis Team.
The family said Mrs Regan would still be alive if her grandson had received help when she took him to hospital on the day before her death.
Severe paranoid schizophrenia
Her body was found at her home on Marlborough Grange, in Leeds, on 1 June 2008.
Rakeim was diagnosed with severe paranoid schizophrenia following Mrs Regan's death and was ordered to be detained indefinitely at a secure psychiatric hospital after admitting manslaughter.
The inquest heard a GP referred Rakeim to the crisis team on 30 May, believing he was suffering from a psychotic illness needing urgent treatment or detention.
Mrs Regan took her grandson to the emergency department of St James's University Hospital the following evening, where he was assessed and sent back to his grandmother's home with a sleeping tablet.
Coroner David Hinchliff recorded a narrative verdict at the end of the week-long inquest at Leeds Coroner's Court.
Mr Hinchliff said: "Rakeim Regan's mental health was deteriorating further and his paranoia increasing.
"An assessment by a specialist registrar psychiatrist could have produced a differential diagnosis of paranoid schizophrenia then Rakeim could have been removed from his grandmother's home, the outcome of which is that she would not have been unlawfully killed by stab wounds of the head and neck."
He continued: "Rakeim Regan was a dependent person who was seriously mentally ill with a psychotic illness.
"The failure by those involved to have him assessed by a specialist registrar psychiatrist... provides the causal connection with the events which led to the death of Patricia Ann Regan."
Policy changed
In a statement released after the inquest, Mrs Regan's family said: "It has taken four years but finally we have got to the truth of how Pat and Rakeim were let down and failed by Leeds mental health crisis team."
Chris Butler, the chief executive of Leeds and York Partnership NHS Foundation Trust, said: "The assessment of Rakeim Regan in 2008 was carried out with the best of intentions by a single practitioner in order to provide a rapid response to an urgent situation.
"We fully accept the coroner's findings regarding the absence of on-call specialist doctors during the trust's interaction with Rakeim Regan.
"We are committed to continually improving our services and we have already changed our policy and procedures following a review undertaken immediately after the incident."
Mrs Regan's anti-gun campaign started after her son Danny, 25, was shot dead in 2002.
She had been a high-profile campaigner and met government officials to discuss how to tackle the problems of guns and gang-related crime.