Yorkshire Post staff leave Leeds building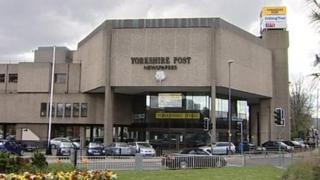 Staff at the Leeds-based Yorkshire Post and Yorkshire Evening Post have left their building in the city.
The offices on Wellington Street have been the home of the two newspapers for 42 years.
The concrete tower displaying the time and temperature is a familiar sight for commuters driving into Leeds on the inner ring road.
Staff have moved to new offices at the Number 1 Leeds development on Whitehall Road.
The newspapers' owner Johnston Press is seeking a buyer for the old premises.
'Emotional'
When it was opened in 1970 by Prince Charles it housed more than 1,300 staff. The company now employs about 400 people.
The complex's printing presses were closed in March when work was transferred to Sunderland and Dinnington, near Sheffield.
Yorkshire Post sports reporter Nick Westby said it was a "big old building" and many staff were upset at the closure.
"It's always going to be a sad day," he said.
"Quite emotional for a lot, especially for the old guard who have been there for quite a a long time.
"Some of them have been there as long as the Yorkshire Post and Evening Post have been there."