Calder Valley flood recovery festival 'a major success'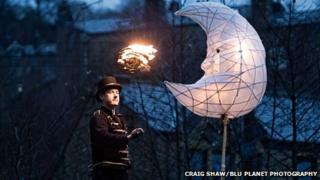 A three-day festival in the Calder Valley has been hailed as a major success in the recovery of communities devastated by summer floods.
Some 10,000 people turned out for the Valley of Lights events in Todmorden, Hebden Bridge and Mytholmroyd.
The celebrations were organised by Calderdale Council and Totally Locally to boost businesses and morale following flooding in June and July.
Chris Sands, from Totally Locally, said it had delivered "magical memories".
Councillor Barry Collins, the cabinet member for economy and environment, said: "The thousands of people who enjoyed the three events can be in no doubt that Todmorden, Hebden Bridge and Mytholmroyd are strong, vibrant places to visit and, hopefully, they will return again and again in the future."
The council said it would continue to work with communities to build on the festival's success and make the place more resilient to flooding.
Mr Sands said: "Todmorden rocked at the first evening, Hebden Bridge was heaving with visitors and Mytholmroyd was incredible, with a local historian telling us it was the biggest turnout for the town since World Peace Day in 1919."