Runners complain after Bradford event error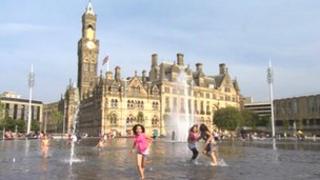 Runners have complained after an error cut short the distance of this year's Bradford City Run.
After Sunday's event runners said they were sent the wrong way on the 5k loop, which caused the race to be about 500m short and the 10k race only 9k long.
Tom Potter, from Otley Athletic Club, said he wanted his entry fee refunded. A local MP said the event had still raised money for good causes.
Bradford Council has apologised for the error, calling it "a genuine mistake".
Mr Potter, who ran the 10k race, said: "It was very clear that the race was cut short. I could sense that some of the charity runners that were running the event or potential first-time 10k runners were very disgruntled by this."
'Reassurance needed'
He said he believed the council should have brought in a local running club to help organise the event.
Other runners took to social networking websites to complain about the error.
Chris Young, from Leeds, tweeted: "Unofficial time for today's Bradford City 10k run was 42m 5s. Sadly race organisers messed course distance up so time doesn't count as [personal best]."
David Ward, Liberal Democrat MP for Bradford East, also took part in the 10k run.
He said: "I enjoyed it with friends and colleagues to raise a bit of money for charity.
"It was a bit of a challenge and bit of fun and a chance to support the revival of the city centre.
"This is serious, I don't want to minimise it, but it has happened.
"We have got to reassure [the runners] that it will never happen again."
'Genuine mistake'
Phil Barker, Bradford Council's assistant director for sport and leisure, said the council apologised to all the runners who took part in the Bradford City Run.
"Although the course was correctly marked up, one of the marshals unfortunately misunderstood his briefing and sent the runners the wrong way on the 5k loop.
"It was a genuine mistake and we are sorry that runners were unable to record accurate comparable race times because of the error."
Bradford Council plans to run the race again in 2013 and invited any interested parties, including running clubs, to get involved in the planning, Mr Barker added.