Wakefield Trinity Wildcats stadium gets outline planning permission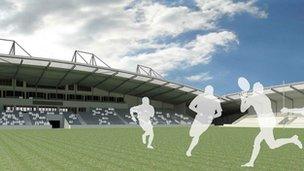 Wakefield Trinity Wildcats rugby league club has come a step closer to moving into a new stadium after the scheme gained final government approval.
Communities Secretary Eric Pickles has awarded outline planning permission for the scheme on Newmarket Lane, Rothwell.
In June, he said he was "minded" to approve Yorkcourt Properties' plans, but only if certain planning conditions were in place. Those have now been met.
The 12,000-seat stadium should be ready for the start of the 2015 season.
Wildcats chief executive James Elston said: "This is great news and another huge step towards better sporting facilities for the district.
"There has been a lot going on behind the scenes since the planning permission was provisionally passed in June and with this being rubber-stamped by the secretary of state we're now well placed to take that on further and create a really secure future for this club."
The site at junction 30 of the M62 will also include warehouses, a multi-use games area, a restaurant and 120-bedroom hotel.
Wakefield City Council backed the development on green-belt land bordering Leeds and Wakefield in 2010.
However, Leeds City Council objected to the use of green-belt land and a possible blurring of the boundaries between Leeds and Wakefield.
A Local Development Framework report freed the land at the former Newmarket Silkstone Colliery site from green-belt status, enabling it to be available for commercial use and also rejected the claims that any development on the site would significantly erode the boundaries between the two cities.
The case was the subject of a public inquiry in December 2011 and was eventually sent to Mr Pickles for a decision.
He has now granted outline planning permission for the development. His decision may be challenged in the High Court within six weeks.
Related Internet Links
The BBC is not responsible for the content of external sites.