Typhoid bacteria in Denby Dale water 80 years ago killed villagers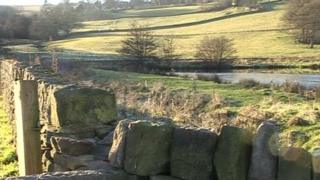 It is a source of pleasure for walkers and local fishermen, many of whom will be unaware of its deadly place in local history.
Square Wood reservoir supplied drinking water for residents of a West Yorkshire village, until an outbreak of typhoid fever 80 years ago uncovered an inadequate sewerage system and it was closed down.
For many years sewage from nearby homes in Denby Dale had been entering a spring supplying water to the reservoir, and residents had been consuming its contaminated water.
So when one of those residents was struck down by the water-borne disease, many others soon became ill.
The typhoid fever outbreak in Denby Dale infected 75 people and claimed the lives of 12 others.
Birthday in hospital
Marjorie Parker is one of only a few people left in the village who were affected by the epidemic.
She lost her aunt, 21-year-old Doreen Wood, when she was two. Her late husband Philip, who was four at the time, lost his father George and his uncle Ernest Lockwood.
They and other victims are buried in the graveyard of St Nicholas Church, Upper Cumberworth.
Mrs Parker said: "Nearly every Sunday night when I were a child we used to come up with my mother and father to the grave. It was the usual Sunday night walk.
"Doreen had her 21st birthday in the isolation hospital and she died shortly afterwards. It was a tragedy. They were so young with all their life in front of them."
Mrs Parker said the outbreak was talked about for years afterwards, but many residents were now unaware of the events.
"There's not many left in the village now who were around at the time. It was a real tragedy because a lot of people got it.
"It was the ones who got it early on, before [doctors] knew what it was, that died because they didn't know what they were treating."
'No idea'
The outbreak began after 21-year-old Kate Robson, who was known as Kitty, returned home to the tiny community of Quaker Bottom, west of Denby Dale, from a holiday in Scarborough.
By the time Miss Robson became ill and was diagnosed with typhoid fever, the fever had already taken hold of the village.
Historian John Brooke, who has researched the events for a new book, said: "The girl herself had absolutely no idea that she had the typhoid fever.
"Seventy people suffered from this, [their names] were printed weekly in the local papers.
"The fever hospitals announced [their conditions] and many of them make sad reading, you know 'sinking slowly' or words to that effect."
The supply from Square Wood Reservoir was immediately cut off and water was brought in from elsewhere.
But Mrs Parker said it was a "long, long time" before the residents of Denby Dale were willing to drink their tap water again.