West Yorkshire Fire Service cutbacks confirmed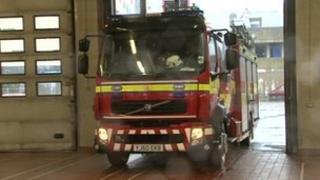 West Yorkshire Fire and Rescue Service will reduce the number of its fire engines and cut 201 firefighters to save £7m from its budget.
The cuts were approved by councillors following a public consultation process.
The service will also close five fire stations, although it said it would build two new ones in "higher risk areas".
The Fire Brigades Union claimed that the plan would "cost people's lives."
West Yorkshire Fire and Rescue Authority said it faced "significant reductions in central government grants between now and 2016".
As well as the proposed savings of £7m from this set of cuts the service will need to further reduce spending by £7.2m by March 2014.
The authority said it had received more than 12,000 comments from members of the public during a 12-week consultation process on the cuts.
Chief Fire Officer Simon Pilling said he fully understood the concerns of people who had objected to the original proposals during public consultation.
'Negative effect'
He said he and his fellow officers had spent hours working on the plan.
He said: "I believe that we have identified and highlighted a suite of proposals that will have the very least impact on public safety."
"These are exceptionally difficult times for all public services but we cannot ignore the reality of financial cuts and the need to make fundamental changes to secure the future of the county's fire service."
David Williams from the Fire Brigades Union (FBU) said he was pleased the chief fire officer had modified an original plan to close more stations after listening to public objections.
Mr Williams said: "The new proposals, although stations remain open, is still a reduction in fire cover.
"The overall ethos remains the same. This reduction in fire cover will cost people's lives.
"Not as much as with station closures but it will still have a negative effect."
He added: "We believe there is still further savings to be made without cutting frontline operational crews and closing fire stations."