Huddersfield's historic George Hotel closes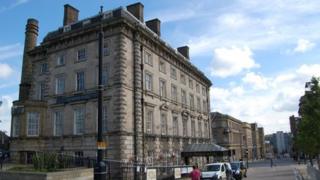 A Grade II-listed hotel in West Yorkshire that was the site of the founding meeting of the rugby league in 1895 has closed.
The 60-bed George Hotel in Huddersfield was shut on Wednesday and a security guard placed on the door.
Chris Marsden, chairman of Huddersfield Civic Trust, said: "It would be a great loss if we lose the George Hotel."
The joint-receiver, Jon Cookson, said the hotel had been on the market for a number of months but had to close.
Mr Cookson, of Colliers International, added the closure was with "regret" and the company would be looking to find a buyer as soon as possible.
In a statement the firm said: "The hotel is no longer trading and staff and customers have been informed."
Mr Marsden said the town had lost a number of hotels and guest houses to the competition of the "chain budget hotels".
"It is not like it used to be when a visitor to Huddersfield arrived at the train station and looked for a hotel," he added.
'Wealth of treasures'
The historic Victorian hotel was built in about 1851, next to the town's railway station.
On 29 August, 1895, 21 northern rugby clubs held a meeting and voted to secede from the Rugby Football Union to set up the Northern Union - which was renamed the Rugby Football League in 1922.
Niel Wood, the Rugby Football League's communications director, said the hotel held "a special place in the history of rugby league" and the league was sorry to hear the venue had closed.
Mr Wood said the building housed the Rugby League Heritage Centre and said it was "sad that an attraction which houses such a wealth of sporting treasures is no longer open".
"The George Hotel has changed hands on several occasions in recent years so hopefully new owners will be found to reopen as a going concern," he added.
Colliers International said the heritage centre was separately owned and not part of the sale of the hotel.