Donna Healey death: New theory in 1991 mummified body case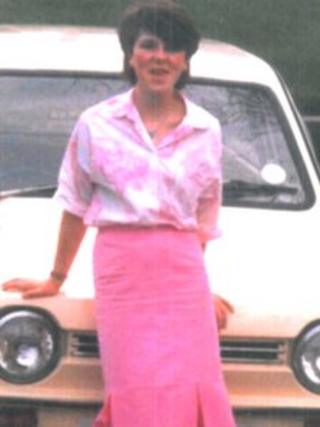 Detectives investigating the death of a teenager whose mummified body was found in Leeds 22 years ago have released new information.
Donna Healey, 18, of Little Horton, Bradford, disappeared in March 1988 while working as a prostitute.
Her body was found three years later in Chapel Allerton. Tests showed it had been stored in an air-tight container.
Police say they now believe whoever moved her body may have been forced to by a change in personal circumstances.
Despite extensive enquiries and an appeal on the BBC's Crimewatch, police have not been able to establish the circumstances that led to Donna's death or why she was left in a location where she was likely to be found.
On the 22nd anniversary of the discovery, they have revealed publicly for the first time the findings of a report by psychological profiling experts who reviewed the case.
Sudden change
Det Ch Insp Jon Morgan, who is leading the investigation, said: "There was likely to have been a significant event in the circumstances of the person who had stored Donna's body for such a long period that suddenly caused them to move it.
"That could be that they were moving house, or a partner was moving in with them, or that there were due to be renovations that would disturb the place where they had stored the body."
The mummified condition that Donna's body was found in indicates it was kept somewhere dry and cool within a building, police said.
Her remains were found in Allerton Park, Chapel Allerton, by a builder on 15 January 1991, who had found the spot clear when he deposited materials there the day before.
"Everything suggests that the answer to Donna's death lies in the Allerton Park area," said Mr Morgan.
"One key finding in the report is the significance of the site where her body was left. It is very unlikely that place was chosen at random.
"We believe whoever left Donna's body there had some sort of connection to that place, that they had either lived or worked in the area or had some other connection to it."
West Yorkshire Police said they had "launched a full reinvestigation of the case in a bid to finally solve the mystery".
'In limbo'
"Even though it is 22 years to the day since her body was found, we are asking people to focus their minds on these two key aspects," Mr Morgan said.
"Do they have any suspicions about someone with links to the Allerton Park site? Do they have any suspicions about someone who had a change in their home circumstances around January 1991?
"Donna's family are still in limbo nearly 25 years after she disappeared. Understandably they want answers about what happened to her and we are determined to do all we can to try and get them those answers.
Donna had last been seen alive by her family who came from Little Horton, Bradford, on the eve of her 18th birthday in 1988.
Her mother Lorraine Wilkinson, 66, said: "Anyone who has children will understand why as a mother I need to know what happened to Donna. I think about her all the time and need answers as to why this happened to her."