Holocaust Memorial Day in Leeds marked by teenagers' play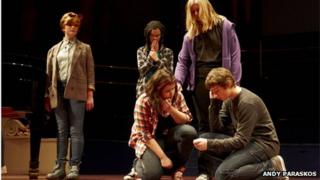 A play devised by 20 teenagers after meeting a refugee is to be part of Holocaust Memorial Day in Leeds.
The children from the Carriageworks Theatre Academy met refugee Amna Idris who left Eritrea due to persecution.
The play will be performed at Leeds Town Hall on Sunday to mark the 68th anniversary of the liberation of the Auschwitz concentration camp in Poland.
The Lord Mayor of Leeds, Councillor Ann Castle, will light a commemorative candle.
The event commemorates all those affected by the Holocaust as well as more recent genocides in Cambodia, Bosnia, Rwanda and Darfur.
Military conflict
Ms Castle said: "Holocaust Memorial Day is an important way of remembering the past and bringing communities together to try and change the future".
The students worked with the theatre company Blah Blah Blah to devise the 15-minute play, called Echoes, after hearing Ms Idris's first-hand stories of being a refugee.
Eritrea emerged from its long war of independence in 1993 only to plunge once again into military conflict, first with Yemen and then with Ethiopia.
Pictures by Kate Vigurs from a new photographic exhibition of holocaust memorials also goes on display at the town hall until 28 February.