West Yorkshire Police's new chief constable announced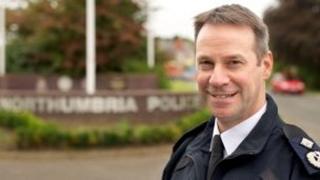 West Yorkshire's new chief constable has been named as Mark Gilmore by the force's Police and Crime Commissioner.
He replaces Sir Norman Bettison who resigned after criticism of his role in the Hillsborough disaster.
Mr Gilmore is deputy chief constable in Northumbria and was previously assistant chief constable in West Yorkshire for two years.
He said: "I feel hugely privileged to have been appointed as chief constable of West Yorkshire Police."
'Low morale'
The appointment by West Yorkshire's commissioner, Mark Burns-Williamson, is subject to ratification by the Police and Crime Panel on 8 February.
Mary Creagh, Labour MP for Wakefield, said she hoped Mr Gilmore would be able to rally the morale of the West Yorkshire force.
"Obviously, the police are experiencing 20% cuts. I had two police officers from Wakefield visiting me in parliament this week and morale is pretty low, I think it's fair to say," she said.
Mr Gilmore's appointment follows the resignation in October of Sir Norman Bettison.
Mr Bettison left the post after an investigation was launched into his role in an internal inquiry conducted by South Yorkshire Police at the time of the Hillsborough disaster.
Last year, Sir Norman was referred to the Independent Police Complaints Commission over allegations that while serving as as an inspector in the South Yorkshire force he provided misleading information after the disaster.
He was set to retire in March but left after candidates in the election to become West Yorkshire's police and crime commissioner called for him to stand down.
The force's deputy chief constable, John Parkinson has led the force since Sir Norman's departure.