Huddersfield Afghanistan death soldiers' memorial unveiled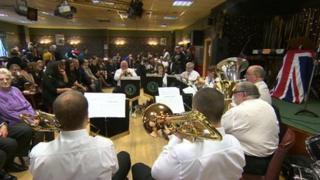 Hundreds of people have attended the unveiling of a memorial for six soldiers from the Huddersfield area who died in Afghanistan.
The memorial commemorates Pte Anton Frampton, Cpl Jake Hartley, Capt Lisa Jade Head, L/Cpl Graham Shaw, Pte Daniel Wilford and Pte Tom Wroe.
It was unveiled during a ceremony at Golcar Royal British Legion club.
Audley Buckle, from the legion, said: "It's hurtful to know our children are still going and getting killed."
"We certainly shall remember them," he added.
All were serving with the Yorkshire Regiment apart from 29-year-old Capt Head, who was serving with the Royal Logistic Corps.
'Brave young soldiers'
She was injured in a bomb blast during April 2011 and died in a British hospital from her wounds.
Capt Head is only the second female member of the UK armed forces to die in the Afghanistan campaign.
Pte Frampton, 20, Cpl Hartley, also 20, and Pte Wilford, 21, were among six UK soldiers killed by a bomb in southern Afghanistan last March.
Pte Wroe, 18, was one of two soldiers killed in Helmand's Nahr-e Saraj district by a "rogue" policeman in September.
L/Cpl Shaw, 27, was one of two soldiers killed on foot patrol when two bombs exploded in Helmand in February 2010.
Royal British Legion county president Bob Mortimer said: "These brave young soldiers will be remembered not only by their families and friends but by so many others who owe them such a debt."
The ceremony included a parade of veterans' groups to the legion building in Scar Lane, where the plaque was dedicated.