Steven Harratt jailed for assisting Wakefield murderer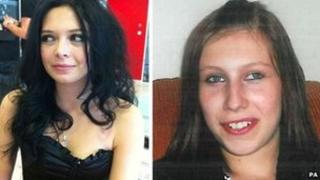 A 57-year-old man who assisted a double murderer after he stabbed two teenage girls to death has been jailed for two years and nine months.
Steven Harratt was found guilty earlier this year of helping Ahmad Otak.
Otak was sentenced to a minimum of 34 years in prison last year for murdering 17-year-old Kimberley Frank and Samantha Sykes, 18, in Wakefield.
Elisa Frank, Otak's ex-girlfriend, told Harratt's trial that she watched as Otak stabbed her sister to death.
Raised the alarm
Miss Frank also described how she saw Otak, an asylum seeker from Afghanistan, spitting on her sister's body and laughing.
Harratt gave Otak money, clothing, food and a sat-nav to help him get to Dover in Kent and try to leave the UK after the murders.
Otak forced Miss Frank to travel with him but was arrested after she raised the alarm in Dover.
Miss Frank was in court to see Harratt, of Willow Grove, Wakefield, sentenced.
The court heard that, while Harratt did not know exactly what Otak had done, he must have realised that he had committed a serious offence.