Leeds United policing costs case in Court of Appeal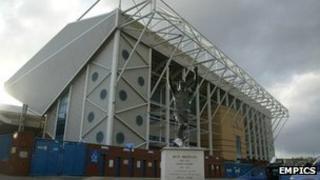 A dispute over who should pay for the policing of matches at Leeds United's Elland Road stadium has reached the Court of Appeal.
In July, the High Court ruled that the club was not responsible for paying for policing streets and car parks near the ground.
The judge ruled that it was part of normal policing duties.
The decision meant that West Yorkshire Police will have to repay the club three years worth of policing fees.
John Beggs QC, appearing on behalf of West Yorkshire Police, told the Court Of Appeal that it cost the force about £350,000 per season to provide policing for Leeds United's home games.
Mr Beggs said that, on any realistic view, the policing provided in the extended area around the ground was exclusively for the benefit or protection of the club and its customers, both home and away supporters.
He said the area required no policing whatsoever on non-match days, with one community support officer patrolling the entire area a few times a day as part of a larger beat. Yet, on match days, numerous officers were required.
He argued that since no, or hardly any, members of the public who were not attending the match were present in the extended footprint on match days, the policing provided there was not for the protection of the general public.
The judges are expected to reserve their decision at the end of the contested hearing.