Leeds council homes PFI scheme faces fresh delays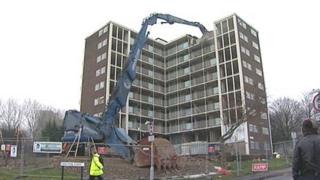 A troubled scheme to provide hundreds of new council homes in Leeds has been further delayed by funding problems.
The £180m project includes plans for 388 new homes and the refurbishment of 1,245 properties in the Little London, Beeston Hill and Holbeck areas.
The Private Finance Initiative (PFI) scheme was due to start last November but was stopped when a bank pulled out.
Leeds City Council said new funding arrangements were being sought and work would now not start before October.
It said that "with very little notice" the government had said that the original terms on which the PFI scheme was to have been funded were no longer feasible.
'Millions' saved
The council had been advised that its preferred bidder, Sustainable Communities for Leeds (SC4L), should "seek improved value for money through alternative funding options".
This could potentially save millions of pounds in interest payments but meant the project faced further delay.
The council has already had to step in to rescue the project, last year committing £40m of taxpayers' money to it following the withdrawal of one of the three banks providing loans.
That followed an earlier setback in 2010 when it was unable to sign off funding because of a value-for-money review being carried out into controversial PFI schemes.
'Extremely disappointing'
Peter Gruen, the council's executive board member for neighbourhoods, said: "The progress made to gain financial close has been slow and the costs of funding the project have increased.
"This has been frustrating, and as a result we have encountered a number of delays.
"I know that, in the short term, this is extremely disappointing for local communities affected by this project. I want to stress that the council is still totally committed to pushing the project through to completion."
In the meantime, hundreds of homes in Beeston and Holbeck have already been demolished to make way for the 388 new properties due to be built under the scheme.
Despite this, the council said it now planned to carry out the refurbishment of 1,245 council homes in Little London first because the delays meant some tenants had been living in deteriorating conditions.