Bradford prostitute rape gang members jailed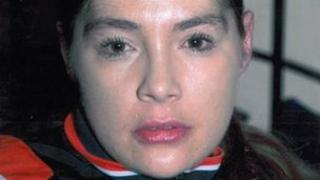 Three members of a gang who targeted and raped prostitutes in Bradford have been jailed for 12 years.
One of the gang's victims was Suzanne Blamires who was later murdered by "Crossbow Cannibal" Stephen Griffiths in 2010, Bradford Crown Court was told.
Jan Dzudza, 40, Matus Tipan, 28, and Miroslav Karicka, 45, were extradited from Slovakia last year.
Judge Peter Benson said if they served their sentences in their home country, they should not then return to the UK.
Rape conspiracy
The trio, who previously lived in Daisy Hill Road, Bradford, fled the country in March 2008 after the gang's leader Lubomir Kora was arrested.
Kora was later convicted of involvement in a conspiracy to rape six prostitutes including Ms Blamires. He was sentenced to a minimum of 16 years in jail.
Bradford Crown Court heard a complex police inquiry, which included co-operation from authorities in Slovakia, eventually led to the three defendants being tracked down.
In January, the trio admitted involvement in the rape conspiracy in relation to the violent attacks on Ms Blamires and a second prostitute who cannot be identified for legal reasons.
Repeatedly assaulted
Prosecutor Stephen Wood told the court how Kora had taken photographs on his mobile phone of the three defendants gang raping the second prostitute in his car.
Two days later Ms Blamires, then 34, was picked up by two men in the same vehicle and driven to a cul-de-sac in Bradford where she was repeatedly assaulted and raped by the pair and three other gang members.
Kora was arrested a few days later when police located his vehicle and they also seized a mobile phone containing images of one of the rapes.
Mr Wood told the court the three defendants must have found out about Kora's arrest because they travelled to London and booked one-way bus tickets to Presou, Slovakia.
Jailing the trio, Judge Benson said it was his "express wish" that the Home Office should take steps to prevent their return to the UK after leaving through deportation or repatriation.
Stephen Griffiths was jailed for life in December 2010 for the murders of three women in Bradford, including Ms Blamires.