Leeds' Bridgewater Place: Plan to tackle 'wind tunnel effect'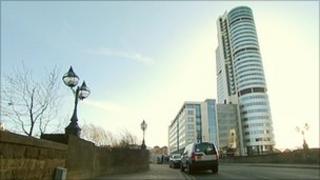 Plans to spend £245,000 designing a solution to the "wind tunnel effect" near Leeds' tallest building have been approved by councillors.
Strong winds at Bridgewater Place led to a lorry being blown over in 2011, killing pedestrian Edward Slaney.
Councillor Richard Lewis said they had a "moral duty" to prevent another incident.
A report put to the city council's executive board said a potential solution had been identified.
Bridgewater Place, which is 112m (367 ft) high, was completed in late 2007, and the council began receiving complaints about strong winds in January 2008.
The report said: "The wind issues in the vicinity of the Bridgewater Place building on Water Lane have been demonstrated to have been caused by the building."
Engineers Buro Happold, commissioned by the local authority, have suggested a canopy on the building combined with 4m-deep (13 ft) baffles built across Water Lane would "offer significant wind mitigation".
The executive board approved a recommendation to spend £245,000 on carrying out detailed design and testing.
Mr Lewis said: "From the council's point of view we have to take leadership on issues like this.
"We have to say now that we're prepared to put some money into this to make something happen as soon as we can."
The building's owners, CPPi Bridgewater Place, have also employed a team of architects and engineers to work on designing a canopy.
An inquest into Mr Slaney's death, which was adjourned last year, is due to resume in June. The accident also left a woman with serious injuries.