Leeds Kirkgate Market destined for £12m revamp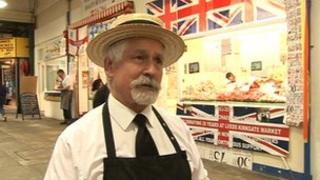 A multimillion-pound development for the landmark Kirkgate market in the centre of Leeds may revive the site's fortunes, councillors have said.
A plan to be considered by senior councillors in the city would see the interior of the covered market redeveloped.
The George Street side of the market would also be revamped in the £12.3m scheme.
The works would be paid for by surplus cash generated by the market each year.
The plans unveiled by the city council reveal that work would start "as soon as possible" if the scheme is approved at the city's executive board meeting on 13 March.
The roofs on both the original and later market buildings would be replaced in an initial phase of work.
New homes
A central events space, new routes through the site and the relocation of the butcher's row closer to the fish and game stalls is envisaged.
The George Street facade of the site is earmarked for redevelopment in a separate scheme that would "complement the adjacent Eastgate development" which is destined to include a new John Lewis store.
At George Street there would be new ground floor shops that open into the market with homes built above.
Michael Saynor, who has worked in the market for 45 years and run his own business there for two decades, said it was vital stallholders were involved in the planning of any development.
He said: "The market [management] must talk to the stallholders, and the stallholders must be involved in how this place evolves.
'Fix the basics'
"We have a lot of hair stalls and a lot of telephone stalls, as do a lot of markets, but we need to concentrate on food.
"Get the food customers down and they'll love the environment down here and you're talking to a person, rather than go to a supermarket and just put stuff in a trolley, it's so-much better."
Councillor Richard Lewis, who is responsible for development and economy in the city said: "We know work needs to be done on the market such as fixing the basics and, if approved, work will start to put these things right as soon as possible.
"The rest of the project would take place in phases over the next few years.
"We have a real opportunity to develop Kirkgate market and, with the new Eastgate shopping and leisure development just across the road, this will become a much busier area of the city and we need to harness this by improving both the interior and exterior of the market making it both attractive and easily accessible."