Decision due on child heart surgery legal challenge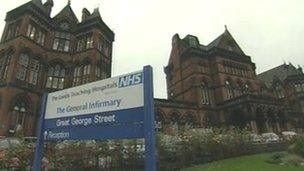 A decision is due on a legal challenge to overturn plans to end child heart surgery at Leeds General Infirmary.
A judicial review was brought at the High Court in London last month by the Save our Surgery group (SOS) over an NHS plan to stop the operations.
The group claims the consultation process was unfair and legally flawed.
The decision could impact an NHS ruling that child heart units at Leicester's Glenfield Hospital and London's Royal Brompton should also stop surgery.
The legal intervention was prompted by a public consultation in March to July 2011 which explored options for the future of child heart surgery.
The Royal Brompton in London brought its own judicial review in November 2011 but the Court of Appeal ruled in favour of the NHS process in April 2012.
In July 2012 the Joint Committee of Primary Care Trusts (JCPCT) announced it would end child heart surgery at Leeds, Royal Brompton and Leicester's Glenfield.
It said that care should be concentrated at fewer, larger sites to improve standards and chose units at Bristol, Birmingham, Liverpool, Newcastle, Southampton and two London centres.
The result of the judicial review brought by the Leeds campaigners could also impact that decision.
As part of the NHS review process, each hospital was visited by a panel of experts and given a score based on its performance.
The SOS legal challenge centred on how those scores were worked out and the level of scrutiny they were subjected to.
During the High Court hearing, the group said the JCPCT had produced "sub-scores" measuring the quality of service under various criteria but had not disclosed them to consultees.
Sir Neil McKay, chairman of the JCPCT, previously said: "If we want to save more children's lives and reduce complications such as brain damage, we believe it's the right decision for the country."
Related Internet Links
The BBC is not responsible for the content of external sites.