Trinity Leeds shopping and leisure complex opens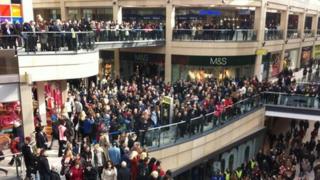 A new £350m shopping and leisure development in Leeds has opened its doors for business.
The 1,000,000 sq ft (92,900 sq m) Trinity Leeds is expected to create 3,000 jobs. It is the only major retail development opening in the UK in 2013.
Hundreds of people queued to be among the first to get into the glass-domed centre, which was opened by the leader of Leeds City Council, Keith Wakefield.
Developer Land Securities said 90% of units were pre-let.
Work restarted on Trinity Leeds in 2010 after construction was put on hold for 16 months because of the recession.
Covered streets
Land Securities said Armani Exchange and Victoria's Secret were among the retail chains to take space in the centre.
In January, the firm said it had "achieved a major milestone in leasing as Trinity Leeds, the largest retail and leisure development under construction in the UK".
Andrew Dudley, from the developer, said: "We estimate 3,000 jobs in the completed scheme and more than three-quarters of those will be new jobs to Leeds."
He said despite concern following the failure of a number of high-street chains, the company was very positive about the success of the Trinity scheme.
The scheme has been designed to provide a series of covered streets designed to integrate the site with the current layout of the city centre.