Investment in Leeds' historic Kirkgate delayed to 2014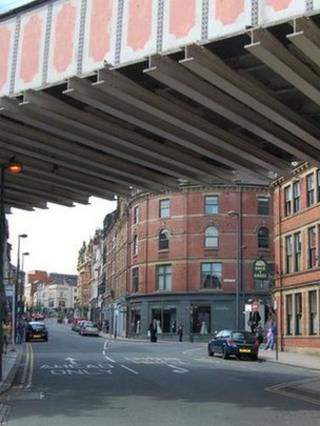 Work on a £2m investment on a historic street in Leeds is now expected to start during 2014.
The money will be used to repair and refurbish existing business premises in the Kirkgate area of the city.
It will also bring vacant properties into use including the grade II* listed First White Cloth Hall.
Kirkgate was mentioned in the Domesday Book of 1086 and was a fashionable residential district for wealthy merchants in the 17th Century.
Crucial in battle
Kevin Grady, director of Leeds Civic Trust, has said the Cloth Hall, built in 1711, is one of the most important buildings in Leeds.
The hall oversaw the economic development of the city and was crucial in the battle with neighbouring Wakefield for supremacy in the cloth trade.
The west wing of the cloth hall had to be demolished in 2011 after the collapse of the building next door.
Lower Kirkgate links the city centre to Leeds Minster, formerly known as Leeds Parish Church.
It dates from Anglo-Saxon times and is of historic value as the "city's first street", the council said.
In the 1830s, a Leeds town guide noted: "If not a route to the Parish Church, it is a street that no one would wish to know".
It was originally hoped work on the scheme would start in the summer of 2013.
Leeds City Council and the Heritage Lottery Fund will support the townscape heritage initiative to invest more than £2m.