Children's heart surgery in Leeds was halted because of 'poor' data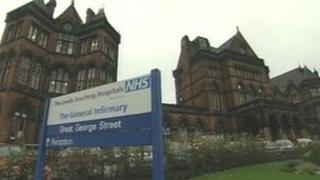 Children's heart surgery at Leeds General Infirmary was halted because of "poor quality" data submitted by the hospital, it has emerged.
Operations were stopped 11 days ago after it was claimed records showed higher-than-usual death rates.
Sir Bruce Keogh, medical director of NHS England, said the data prompting the suspension was inaccurate.
On Monday a "phased resumption" of heart surgery at the hospital, beginning on Wednesday, was announced.
Sir Bruce told the BBC Radio 4 Today programme: "The data had shown a higher mortality but that data was based on information submitted by the hospital itself.
"Leeds had not submitted good data to the national audit, which is used for monitoring the quality of children's heart surgery."
He said the hospital had not submitted important information in 35% of cases, compared with between 0% and 1.4% at all other units in the country.
'Under review'
Sir Bruce added that, in the wake of public inquiries into children's heart surgery in Bristol and events in Mid Staffordshire, it was important to act swiftly on the data received.
"The most sensible thing to do in everybody's interests, not only the babies and parents, was to halt the operations until we got to the bottom of it," he said.
He went on to say "the immediate safety issues have gone" and said he would be "keeping the unit under review".
The planned restart of surgery at Leeds General Infirmary followed the end of the first stage of a review into the safety of the unit.
During that part of the review, assurances had been received from independent experts about the quality of surgery and staffing levels that were sufficient to allow the phased resumption of operations, according to NHS England.
The second stage of the review into safety at the unit will look at other areas where improvement may be necessary, including the way complaints from patients were handled at the unit and the completion of a review of patients' case notes over the last three years.
'Worries and fears'
Sir Bruce's comments came on the same day Save Our Surgery (SOS) - the group fighting to save the children's heart unit - called on Health Secretary Jeremy Hunt to launch an investigation into the suspension of operations.
Campaigner Sharon Cheng said: "Given that the suspension potentially put patients at risk, has caused huge inconvenience and added stress to the families of children who have had to be treated elsewhere, and created unnecessary worries and fears amongst previous patients' families; questions must be asked as to why operations were suspended in the first place.
"We hope those who made this decision will now be held to account.
"This whole exercise has been NHS politics at its worst.
"We call on the Secretary of State to launch an urgent inquiry into these events and what led them to happen."