Margaret Thatcher funeral marked by pit community 'party'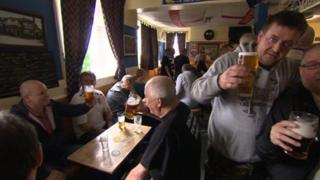 Critics of Baroness Thatcher have marked her funeral by holding a "party" in a former pit community.
Nearly 60 people attended the event at the Minsthorpe Hotel in South Elmsall, West Yorkshire.
Guests wore T-shirts bearing anti-Thatcher slogans with many referring to the 1984-5 miners' strike.
Pub landlord and former miner, Ray Wellings, said he had organised the event because of what he said was the "grief" caused by Lady Thatcher.
He said: "I always said if I was in the pub business I would hold a party when she did die for what she did to the mining communities around here.
"She set out to destroy people's lives and we are celebrating she has actually gone."
South Elmsall was the site of Frickley Colliery that closed in 1993.
It was one of the last pits in Yorkshire to return to work at the end of the miners' strike.
'End of Thatcherism'
One party attendee, Michelle Brown, said she did not think it was tasteless to hold the event on the day of the former Prime Minister's funeral.
"It is not about about the demise of an old lady, it is about the end of Thatcherism hopefully," she said.
"She was the person who destroyed our lives in this area. We cannot reverse what she did but hopefully today will revive a bit of that community feeling we had."
Supporters of Lady Thatcher had gathered to watch the funeral at the Conservative Club in nearby Pontefract.
Jackie Evans, club chair, said: "It is a very sad day for the party. She improved the country far more than people have given her credit for round here."