Action plea after wind death near Leeds high-rise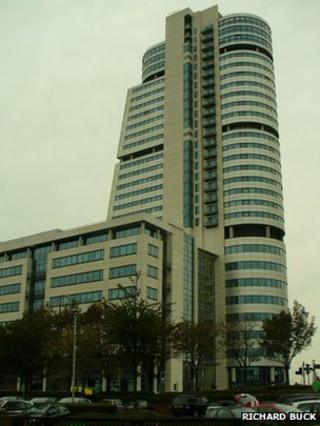 The partner of a man killed because of a wind tunnel effect caused by Leeds' tallest building has said nothing has been done to tackle the problem.
Edward Slaney, 35, was crushed by a lorry that was blown over near Bridgewater Place in March 2011.
Ruth Evans, his partner, said "accidents are waiting to happen" near the building due to the wind tunnel created by its design.
Leeds City Council said it was working on a solution to the problem.
Last month, a report by the council detailed 25 incidents caused by high wind around the 367ft (112m) building since 2007.
'Plenty of time'
Ms Evans said she recently drove past it and felt the effect of the wind.
"Even after Ed's death - it's been two years now - and still I don't see any progress, and that's not right," she said.
"Until something is actually done that rectifies the situation, that solves the problem of the wind caused by the building, then I don't think it is a very safe area.
"I think there's been plenty of time, and I think there's plenty of ideas and I think there's been plenty of money thrown at it so...by now a solution should have been found and it should be in place."
Leeds City Council said it was hiring a consultant to design a series of baffles that would act as a solution to the problem but added that designing them was complex.
'Matter of urgency'
In a statement, the council said: "While we want the solution to be in place as a matter of urgency, we want to ensure it's done properly.
"In the meantime, we're confident the measures we have already taken to safeguard the public will continue to provide protection."
The council has installed its own equipment around the building to monitor wind conditions so that warnings and diversions can be put in place when necessary.
The company that manages the building, Jones Lang LaSalle, said they regularly monitor the weather and adopt appropriate precautions to ensure the safety of anyone visiting or working in the building.
"Priority is always given to personal safety," it said.