'Wicked' thief Marion Pokuta targeted elderly in Bradford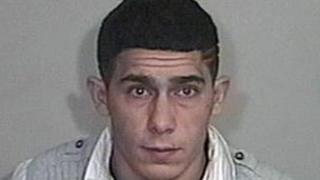 A "wicked" thief whose victims included a 94-year-old dementia sufferer has been jailed for seven years.
Doris Burnett died two months after Marion Pokuta ripped off her wedding ring during a robbery, Bradford Crown court heard.
Pokuta, 22, of Falcon Street, Great Horton, Bradford, admitted robbery and another attack on a 90-year-old woman.
Judge Durham Hall said Pokuta targeted the elderly and vulnerable and he was "wicked and cowardly".
The court heard the attack was the third time Pokuta had targeted Mrs Burnett's home in the city.
In February 2011 he was jailed for four months after he had twice stolen cash from her Great Horton property.
At the time of the attack on Mrs Burnett in January Pokuta was already on police bail having been linked to an earlier robbery at the home of an elderly Bradford couple.
In that robbery, Pokuta and another man had targeted the bungalow of Laura Clarke, 90, and her 89-year-old husband John pretending to be looking for work, prosecutor Philip Adams said.
Drugs and alcohol
Mrs Burnett had lived independently with the help of her family, Mr Adams said.
She phoned her nephew for help and he found her in a distressed state saying a man had come into her home and pulled her wedding ring from her finger.
Mrs Burnett had not taken the ring off her finger for 60 years.
Mr Adams said after the robbery Mrs Burnett was moved into nursing home and she died from a stroke in March.
Pokuta's lawyer said his life had blighted by the use of drugs and alcohol, but he had expressed remorse.
Speaking after the case Det Con Sean Donoghue of Bradford South CID said: "Pokuta targeted his victims in the full knowledge that they would not be able to defend themselves and would succumb to superior force.
"The fact that he physically pulled a wedding ring from the finger of one of his victims is a clear indication of his conscienceless character."