Leeds burglary suspect 'may be dead' in sewer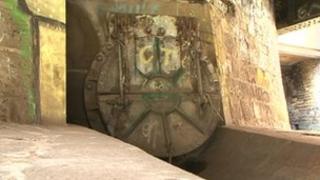 A suspected burglar who entered sewers in Leeds to escape from police may now be dead, it is feared.
The man was seen running off and entering a storm drain when police arrived to an alarm call at commercial premises in the city centre on Sunday.
Search teams found footprints in the sewer which end at a point where toxic gases are present. There is no sign the man got out of the sewer safely.
Staff at the Knostrop Water Treatment Works have been told to expect remains.
A search and rescue operation was mounted as soon as the man entered the storm drain.
Search cancelled
Supt Pat Twiggs, from West Yorkshire Police, said: "Those search teams have entered this sewer... and systematically followed that sewer system for between a quarter and half a mile to look for anyone in there.
"They have found a single set of footprints leading up for about a quarter of a mile towards North Street.
"Where the toxic gases are the footprints have ended. At that point the search has been cancelled and it's been deemed too unsafe to continue using humans, even with breathing apparatus."
Mr Twiggs said there was no sign of the footprints doubling back, and he was "99% certain" the man was still in the sewer.
"The experts tell me that once inside that system there's no other way out and I don't think, particularly as we have evidence that he's entered the toxic section, that he's ever come out of there."
Police want to hear from anyone who knows of someone who is missing and who could have been involved in the incident.