Mother hits out at NHS after 'flat head syndrome' treatment refusal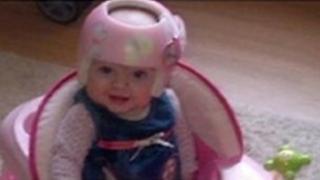 A mother whose premature baby developed a misshapen head has hit out at the NHS after it refused treatment.
Michelle Askam, from Leeds, said nine-month old Molly had plagiocephaly and spent six months wearing a helmet to correct her head shape.
The NHS refused treatment saying it was a cosmetic issue and the Askam family had to fund the £2,000 cost.
Mrs Askam said she was angry NHS money was available for some cosmetic breast enlargement or tattoo removal.
'Largely cosmetic'
In a statement the NHS Airedale, Bradford and Leeds Primary Care Trust said: "The NHS does not usually fund the use of cranial remoulding orthosis (helmets for babies) for babies with plagiocephaly.
"This is a largely cosmetic issue and in the majority of cases the condition will resolve spontaneously with advice around positioning of the baby."
The primary care trust has been disbanded but was in charge of the decision at the time of Molly's treatment.
Mrs Askam said people who had chosen to get a tattoo sometimes received NHS treatment for its removal.
"Molly hadn't chosen to have a flat head," she added.
Molly was born five weeks prematurely.
At six weeks old she was diagnosed with an intolerance to cow's milk and developed meningitis.
The family later noticed that the back of her head was flattened, and she was diagnosed with severe plagiocephaly, sometimes referred to as 'flat head syndrome', by a specialist clinic in Leeds.
At one point Molly's ear was on the back rather than on the side of her head, according to her mother.
Borrow and beg
The problem occurs when external force causes a baby's head to take on an abnormal shape.
Mrs Askam said a lot of babies suffer from this problem and it does correct itself with positioning of the baby.
However, Molly's was a severe case and the treatment had meant the plagiocephaly didn't cause lasting damage.
She said hers was a "working-class family" and it had to borrow and beg to get the money.
"You will do anything for your children," she added.
Mrs Askam said she did not work and her husband was on minimum wage.