Greg Mulholland MP 'wrong' to swear in gay marriage tweet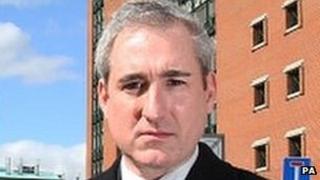 An MP has said he should not have sworn at a constituent in a message on Twitter about the gay marriage vote.
Greg Mulholland, a Liberal Democrat, used a four-letter word in a message to constituent Jonathan Pryor.
Mr Pryor, from Leeds University and a gay rights activist, was called "disingenuous, manipulative, illiberal" and a four-letter swear word.
Mr Mulholland said he was "of course wrong" to swear but said he was frustrated at being misrepresented.
Mr Pryor had "conducted a dishonest and unpleasant campaign presenting me as anti-gay... even though I voted the way he wanted me to", the MP added.
He said: "To be called homophobic when I am not is deeply hurtful, it is like being called racist.
Voted in favour
"I am neither and reject hate in all forms and I would hope Mr Pryor would do the same."
Mr Mulholland, who voted in favour of the Marriage (Same Sex Couples) Bill in Tuesday's Commons vote, said he believed in equal legal recognition of same sex and opposite sex relationships but the legislation was flawed.
Mr Pryor's tweet read: "After abstaining, voting for a wrecking amendment, then trying to abolish marriage, I'm glad @GregMulholland1 finally voted the right way."
Mr Mulholland, the MP for Leeds North West, replied: "@Jonathan_Pryor and I am very glad I have never met you Jonathan as you are a disingenuous, manipulative, illiberal little shit! #truth".
Mr Pryor said: "I was a little bit shocked.
"I don't think it's fair to call people asking an MP how to vote 'manipulative'."
However, the mature student reading economics at the university said he was pleased Mr Mulholland had finally voted in favour.
He said he had tweeted the MP "a couple of times" previously but had received no reply.