St Aidan's nature reserve opens at former mine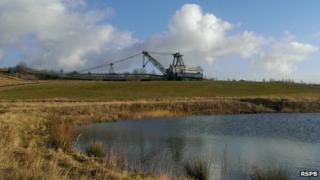 A former open cast mine near Leeds has been given new lease of life as the 400-hectare St Aidan's nature park.
Production ended at the mine in December 2002, but it will now re-open as a haven for rare and endangered wildlife on Saturday.
The site features a 1,200-tonne drag line excavator - once thought to be the largest in the world - that is now home to nesting barn owls and kestrels.
It also has 7.5miles (12km) of footpaths, bridleways and cycle paths.
Darren Starkey, from the Royal Society for the Protection of Birds (RSPB), said: "Although the site will be managed for nature conservation - just like other RSPB sites - the difference here is that it will also be open for a wide range of activities, from cycling and walking to jogging and horse riding."
'Threatened species'
Work on the 1,000 acres of grassland, reed beds, woodland, open water and islands began more than a decade ago.
Among the animals to have made their homes at the reserve so far are barn owls, black-headed gulls, kestrels and three pairs of bitterns - one of the most threatened species in the UK.
Visitors also have a chance to see brown hares and roe deer.
Visitor experience manager Chris Woolner said the drag line, known as "The Oddball", provided a unique feature to the reserve.
"It is a huge machine. At the time it came over from the United States it was the biggest machine in the world and now it's become probably the biggest nesting box in the world," Mr Woolner said.
St Aidan's has been restored by Harworth Estates (formerly UK Coal) together with the RSPB.