Ninth arrest over Birkby fatal house fire in 2002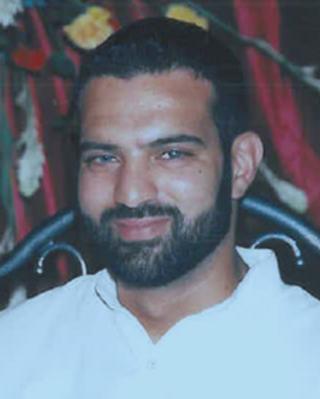 A ninth person has been arrested on suspicion of assisting a man who police want to trace over a Huddersfield house fire which killed eight family members.
A 38-year-old man was held on suspicion of assisting an offender and released on bail, West Yorkshire Police said.
Six men and two women have also been bailed for the same offence.
Three men were jailed over the fire in Birkby in 2002. Police have appealed to find Shahid Mohammed, who was arrested in 2002, but never answered bail.
Detectives said a new image released of Mr Mohammed showed his most recent appearance.
Det Supt Lisa Griffin said: "This remains the biggest multiple murder that West Yorkshire Police has investigated in 30 years.
"The manhunt has stepped up a gear with positive lines of enquiry taking us closer to achieving our objectives of locating the fugitive Shahid Mohammed and identifying those persons who seek to protect him."
The victims were Nafeesa Aziz, 35, and her five daughters - Tayyaba Batool, three, Rabiah Batool, 10, Ateeqa Nawaz, five, Aneesa Nawaz, two, and Najeeba Nawaz, who was six months old.
Nafeesa Aziz's brother, Mohammed Ateeq-ur-Rehman, 18, also died in the fire and their mother, Zaib-un-Nisa, 54, died a week later in hospital after jumping from an upstairs window of the house on Osbourne Road.
In July 2003, three Huddersfield men - Shaied Iqbal, Shakiel Shazad Amir, and Nazar Hussain were convicted for their part in the crime. Nazar Hussain has since been released on parole.