Leeds surveillance cameras used to combat fly-tipping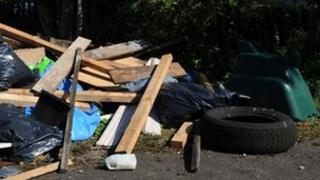 Small, covert surveillance cameras are to be used to help catch fly-tippers in action in Leeds.
The cameras are triggered by movement, work at night and can be fixed to trees or other objects at trouble spots.
The two cameras cost £490 in total and will be moved around areas in west Leeds including Calverley and Farsley, Pudsey, and Wortley.
Councillor Rod Wood, Calverley and Farsley, said: "We want to get these people into court."
Mr Wood said: "The tippers have no civic pride, we are constantly having to send a unit to clear rubbish up."
The cost of the scheme was "well worth while", he added.
Mr Wood said he hoped, if the scheme was a success, it could be copied in other areas of the city.
The council's West Outer Area Committee agreed to the scheme and were told warning signs would be posted in an area before cameras were used.